Combine doors and handles: how to choose the right styles and colors
With the right handles, the doors become pieces of furniture that define the style of the home. How to combine them? Based on shape, colors and finishes, price.
Doors and handles can not do without one another. But, if combining them is a necessity, it is equally important to do it carefully. In fact, the handles are accessories with a high aesthetic value , capable of conditioning both the appearance of the doors and the entire rooms. And it is enough to choose them with a different finish to completely change the overall picture. Just think of a white door and a classic forge handle: in the golden version this will give the interior a decidedly traditional flavor, but revived by an intense color will add an ironic note to the house.
COVERED EFFECT

In all cases, to harmonize interiors it is important to choose the same doors and handles for all the rooms. With the sole exception of the entrance door which, having to meet safety requirements. Can do to itself, while respecting colors and finishes. On the other hand, doors with blind doors and glass versions of the same model can be combined if the need is to illuminate dimly-lighted corridors: the frosted glass filters the light, guaranteeing a little privacy. For greater uniformity it is also good to coordinate the finish of the door and window handles .
THE POINT OF DEPARTURE IS THE DOOR

If you like wooden doors, which have the advantage of making the interior warm and welcoming. Focused on handles with gold, bronze or chrome finish to combine with dark woods. Instead prefer polished steel or matt, if the doors are made of light wood.
A white doors with a smooth, decidedly contemporary door, coupled with handles of a geometric line in polished or satin-finished steel to emphasize an essential style. Choose the same finish if the idea is to give a touch of modernity to the doors always white but with rusticated doors, turn on gold or burnished bronze to confirm a classic look.
If there are colored doors at home , however, it is important that there is a dominant and recurring color that can give harmony to the different furnishing elements, including handles.
A yellow door
for example, perfectly matches a handle made of semi-transparent acrylic with a simple color reference. Of this type there are also models that light up, equipped with integrated LED light . They are useful at night (but also in case of blackout) and in some versions they can be adjusted on more light intensity covering a spectrum of more colors.
When the doors have glass doors framed in wood, also in white lacquered typically English style. Better to choose not very evident handles. Square line models are good to obtain a "compound" effect. Or with rounded profiles to soften the impact. For rustic or shabby chic environments a good alternative is the handles with the white ceramic handle. They have a romantic trait a bit 'old style.
If you are attracted by the rigor and essentiality of the Japanese style . You might like the doors with light paneled doors and frames with contrasting strips. In this case, the right choice are superminimal handles. In steel finish, or black.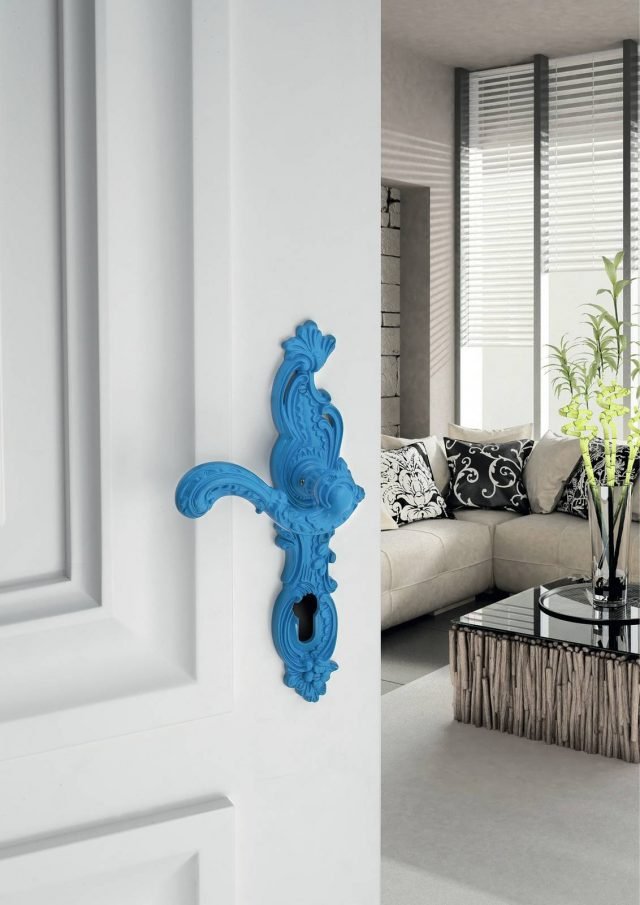 Dark wood door? Combine handles like that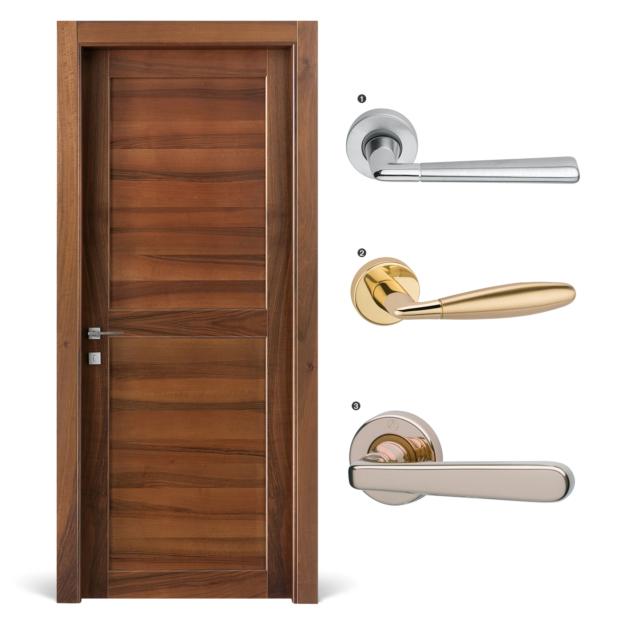 Baltimora New by Bertolotto Porte
the door is in blockboard wood and staved national walnut. www.bertolotto.com Handles : 1. It has a thin profile offset by the rounded line that ensures an excellent Ania Bic grip of Cottelli , the handle with double finish, polished chrome and satin. www.cottali.it 2. Precious, tapered shape with glossy and opaque surface Sasha di Reguitti has a classic line with a contemporary touch. It is in satin brass and painted polished brass. www.reguitti.i t 3. Refined in a pink brass finish, Tirol by Leroy Merlinhas a flared line with rounded contours, very ergonomic. www.leroymerlin.com Light wood door? Better to choose a handle …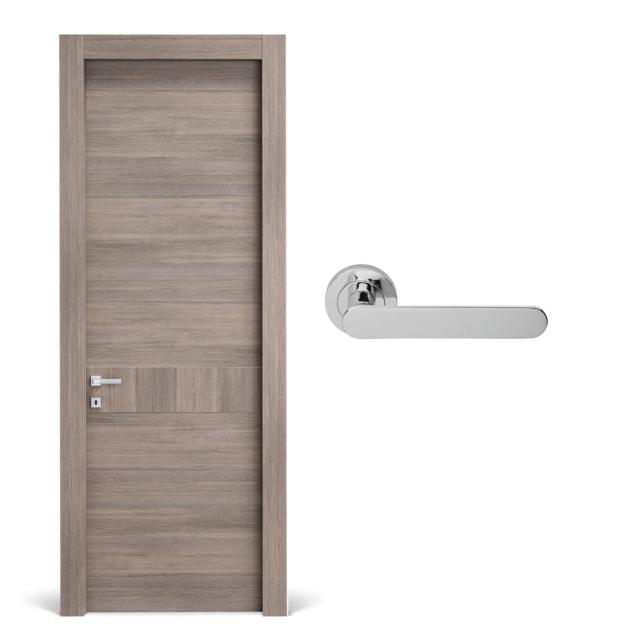 Door: It is in Kinky 3D larch finish by Style House .
www.shporte.it Handle: Rationale, Ratio by Manital has a flat front and a rounded back. Pleasant to hold, it is available in several finishes. www.manital.com White rusticated door? Combine handles like that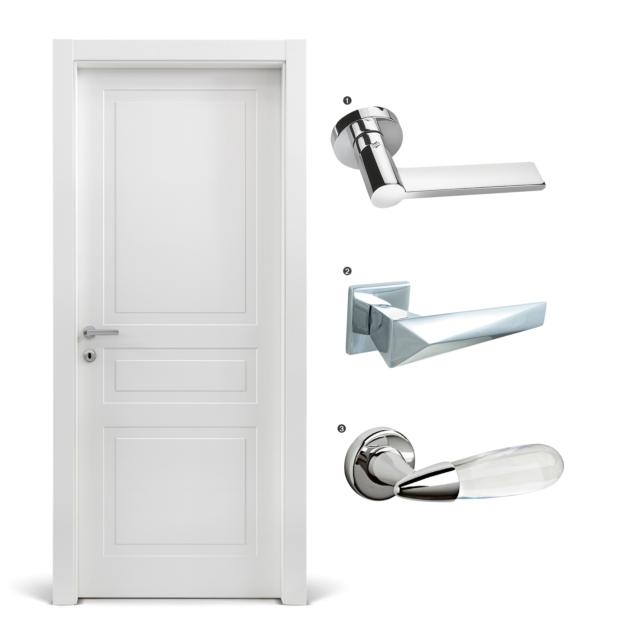 Door: Mixy 7 by Ferrero Legno
in white finish has the door with raised profiles and a 10 cm frame. www.ferrerolegnoporte.it Handles : 1. It is available with rose and 6 mm thick nozzle. Tool by Colombo Design , designed by Michele De Lucchi. Made of brass with a polished chrome finish, it has a clean and elegant line. www.colombodesign.com 2.
Innovative
high-tech mix and craftsmanship, Zeit by Mandelli has a facet that supports the handle. Designed by Marco Piva, it is in brass casting with a polished chrome finish. www.mandelli.it 3. Gem of Kleisin etched white glass has a rounded line that welcomes the hand with a pleasant sensation to the touch. Semitransparent is a discrete presence. www.kleisdesign.com Yellow door? You can play on the color also for the handle
Door: RI10 by Effebiquattro
has a yellow lacquered pantographed hinged door. www.effebiquattro.it/it. Handle : Zento by Razeto & Casareto with Wireless Power and data transfer system, with brass technical knob and anodized aluminum copripomolo. www.razetocasareto.com English Style? Match it like this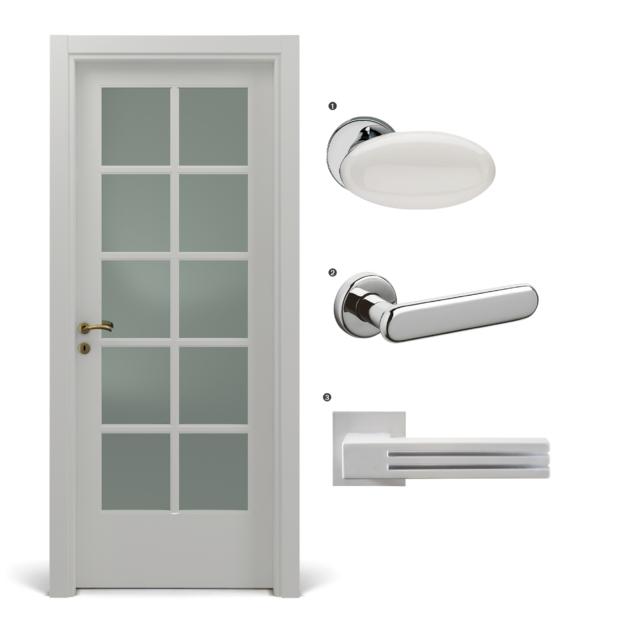 Door:
Lacquered, with tempered glass inserts, Reta 10V, coll. Mirabilia di Garofoli is available in several standard sizes. www.garofoli.com. Handles : 1. In white porcelain and chrome-plated brass, H 315 G Series Novanta, designed by Pierluigi Cerri, revisits in a modern key the original models with a more rustic taste. It is also available in polished gold finish. www.vallievalli.com. 2.
Good proportions and a sober and balanced design that leaves the right emphasis on the Olivari Globe door , in chromed brass, designed by Stefano Giovannoni. www.olivari.it. 3. Soft Touch, in tune with the strongly geometric image, Rake di Frascio goes well with framed doors. It is in white painted aluminum (or black) complete with nozzle with key hole. http://frascio.it Japanese style door? Match it like this.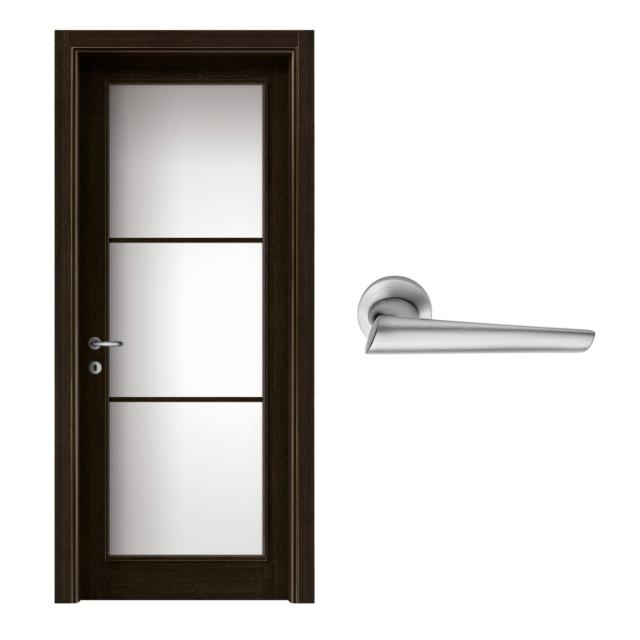 Door: by MPM Porte
is in wengé stained oak with 3 + 3 mm laminated satin glass. In more measures. http://mpmporte.it. Handle: With clean cuts and a round section that tapers at the end, it is a mix of practicality and aerodynamic design. Kendo by Linea Calì has a satin chrome finish. www.lineacali.it